The final round of the DARPA Subterranean Challenge will take place from 21 to 24 September 2021 at the MegaCavern underground complex in Kentucky, USA.
Our team travelled to the United States two weeks ago and has been working hard on preparations for the final round.
"We are still tweaking and fixing things," says Prof. Tomáš Svoboda, team leader of CTU-CRAS-NORLAB. "What can't be done during the day has to be done at night. In addition, at night we can better simulate difficult lighting conditions that make object detection difficult. Also, the sun doesn't shine underground," he explains.
For more details, see press release FEL ČVUT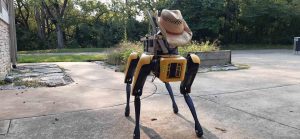 Further in media
Tojesenzace.cz
Feedit.cz
Parlamentnilisty.cz
Technickytydenik.cz
Nejbusiness.cz
Ict-nn.com
Zive.cz